O-Ring Calculator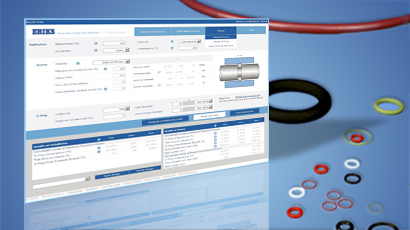 The O-ring calculator enables engineers to specify an O-ring groove for any given O-ring or vice versa calculates the best suitable size O-ring for any given groove. The calculator takes all relevant parameters into account like O-Ring compression, free groove volume, O-Ring inner diameter stretch, thermal and or chemical swell of the rubber material and thermal expansion of mating construction parts materials.
The ERIKS O-Ring design calculator features the calculation of:
O-Ring dimensions for the use in a specific groove
groove dimensions for the use of a specific O-Ring
evaluation of both, any combination of O-Ring and groove
for axial seals with inner or outer pressure, piston seals and rod seals. Worldwide unique online calculation tool taking into consideration of the thermal expansion of the mating construction parts materials. As well as the chemical volume swell or shrinkage of the O-Ring.
Choose between over 30 construction part materials and 11 O-Ring compounds!
User friendly design

Easy to use
PDF output
Saving of your designs
Easy search for ERIKS standard O-Rings