Eén-op-één controle voor 100% goede leveringen
Grote batches O-ringen, vlakke ringen, eenvoudige vormdelen, oliekeerringen en kunststof artikelen
tot 80 mm kunnen bij ERIKS 1-op-1 gecontroleerd worden met de 100% controlemachine. U kunt daarmee volledig vertrouwen op 100% goede leveringen.
Controle van rubber en kunststof onderdelen
Het controleren van kleinere rubber en kunststof onderdelen was altijd handwerk. Echter, mensenhanden en -ogen zijn foutgevoelig, zeker als het om kleine onderdelen gaat. De gevolgen kunnen groot zijn, denk aan lekkages van gas of giftige vloeistoffen.
Hoe werkt de 100% controlemachine
Met de 100% controlemachine zijn fouten uitgesloten. Eerst vindt er een batchgewijze materiaalinspectie plaats. Daarna wordt elk artikel afzonderlijk gecontroleerd op toleranties, vlakheid en imperfecties, zoals vliezen. Met 24 camera's worden de boven-, binnen-, zij- èn onderkant onder de loep genomen. Uitsluitend de producten die 100% goedgekeurd zijn, worden geleverd. Dit geldt uiteraard ook als ERIKS de artikelen voor u op voorraad houdt.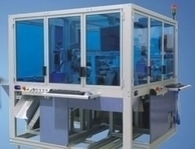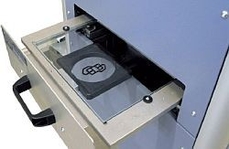 100 procent controlemachine batchcontrolemachine
Batchcontrolemachine conform ISO 3601
Nieuw is ook onze batchcontrolemachine. Deze wordt ingezet bij onze standaard controlemethode voor batches van alle soorten artikelen. De nieuwe Quality Management module waarmee we sinds kort werken, bepaalt de hoeveelheden die steekproefsgewijs moeten worden gecontroleerd. Met de batchcontrolemachine kunnen we snel en nauwkeurig alle meetgegevens van het betreffende product genereren, inclusief Cp- en Cpk- waardes conform de ISO 3601-normen. Uiteraard wordt alle informatie digitaal opgeslagen en zijn meetrapporten direct af te drukken.
Quality Management module
Onze nieuwe controlemachines vormen een aanvulling op de SAP Quality Management module die we in ons ERP-systeem hebben doorgevoerd. In deze module wordt alle informatie rondom kwaliteitscontroles in de gehele goederenstroom digitaal en centraal vastgelegd. Het resultaat hiervan is een betere productkwaliteit, traceerbaarheid, certificaatuitgifte en klachtenafhandeling. Met deze interne efficiencyslag verstevigt ERIKS haar rol als koploper in de markt en voldoet zij nog beter aan de hoge eisen van de (OEM-)markt als het gaat om kwaliteitsborging.
Meer informatie over de 100% controlmachine
Voor meer informatie kunt u het formulier hieronder invullen of contact opnemen met de dichtstbijzijnde ERIKS Sealing en Polymer locatie.
De controlemachine in actie op ERIKS YouTube kanaal.