1-on-1 checks for 100% correct deliveries
Large batches of O-rings, flat rings, simple form parts, oil-retaining rings and plastic items up to 80 mm can be checked 1-on-1 with ERIKS' 100% control unit, assuring you 100% correct deliveries.
Checking rubber and plastic parts
Checking smaller rubber and plastic parts used to be done manually. However, human hands and eyes are prone to mistakes, in particular with small parts. And that can have serious consequences, like gas leaks or spills of toxic substances.
How does the 100% control machine work
The 100% control unit rules out errors. First, it inspects a batches for the correct material. Then, every item is individually checked for tolerances, smoothness and imperfections, like skins. 24 cameras inspect the top, the bottom, inside and outside. Only 100% approved products are delivered to the customer. Of course, this also applies to articles ERIKS stocks for you.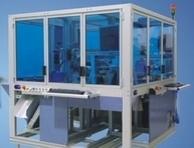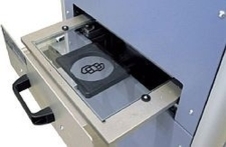 100% control machine batch checker
Batch checker
Another new development is our batch checker, which we use to in our standard checking procedure for batches of all kinds of articles. The new Quality Management module we have recently introduced sets the number of articles to be spot checked. With the batch checker we can quickly and accurately generate full measurement data of the relevant product, including Cp and Cpk scores in compliance with ISO 3601. Of course all data are stored digitally and test reports can be printed immediately. 1-on-1 checks can be performed for customers requiring this.
Quality Management module
Our new control unit complement the SAP Quality Management module we have implemented in our ERP system. The module digitally and centrally stores all quality control data throughout the goods stream. This results in better product quality, traceability, certificate issuing procedures and customer complaints processing. With this internal efficiency drive ERIKS strengthens its leading position in the market and complies even more fully with the high demands of the (OEM) market in terms of quality assurance.
More information about the 100% control machine
If you want more information about the 100% control machine, fill in the form on the right or contact a local ERIKS team. Click here to find the nearest ERIKS Sealing and Polymer location.
Click on the film to see the control unit on the ERIKS You Tube channel