The tables in the Oring Size Chart list approximately 2000 O-ring sizes in order by inside diameter. These O-ring sizes correspond to US Standard AS568, British Standard BS1806, BS4518, Swedish SMS 1586, French AFNOR 47501, Japanese JIS B2401, as well as many common metric sizes according to DIN 3771 and ISO 3601/1 standards.
O-Ring Sizes
Download the ERIKS

O-ring Sizes Chart
or our
O-ring size calculator

.
Customized Solutions
As your value-added partner, ERIKS offers the technical expertise to provide customized solutions to your seal requirements. Because of our technical experience, special applications are no problem for ERIKS.
Most of these sizes are readily available from ERIKS stock in: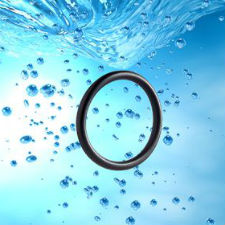 Nitrile NBR 70 and 90 Shore A,
Fluoroelastomer FKM (Viton®) 75 and 90 Shore A, (black, green, brown)
Perfluoroelastomer FFKM
Kalrez® 6375, 7075, 4079, 2035
Ethylene-propylene EP, EPDM 70° Shore A,
Silicone VMQ 70 Shore A,
PTFE (virgin teflon),
Teflex FEP/Viton®
Teflex FEP/VMQ
Fluorsilicone (FVMQ)
Ask ERIKS
Please
contact ERIKS
of fill the "
Ask ERIKS"
form for additional information on the O-ring size chart or any other requirements you may have.
The list of standards is continually being expanded. Please contact the nearest ERIKS representative for sizes not indicated here.