ERIKS started the distribution of O-Rings in 1952 and is now a world leader in the production and distribution of sealrings and elastomeric and polymetric seals. In total ERIKS offers more than 50.000 sealring items, such as silicon, NBR, Eco, butyl, HNBR, EPDM, Viton®, Aflas™ and Kalrez® sealrings.

Why our sealring is a populair choice
The sealring is cost effective in purchase price, but moreover in the Total Cost of Ownership
The cost to machine the sealring groove is low
The sealring can be used in static and dynamic applications
The material allows maximum stretch and is easy to install
ERIKS sealring products are used in the following industries:
Automotive industry
Chemical Process industry
Food and Beverage industry
Food and Pharma industry
Gas and Water industry
Maritime industry
Oil and Gas industry
Semiconductor industry
Applications sealring
Our sealring types are available for static and dynamic applications.
We have four sealring types for static applications:
Axial seals
Radial seals
Dovetail seals
Boss seals
We have three sealring types for dynamic applications:
Reciprocating seals
Oscillating seals
Rotary seals
Detailed information about the static and dynamic sealring types can be found in our Technical O-ring Handbook.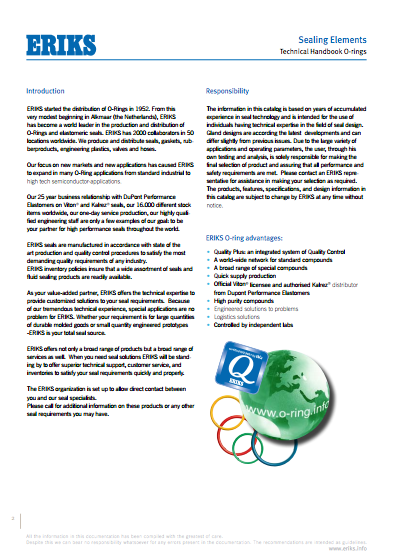 Inquiries about our sealring types
For questions about our different sealring types, please contact us by using our "Ask ERIKS" contact form on the right or by visiting our contact page.